Cabinet Secretary Leoncio Evasco Jr pens a confidential memo to President Rodrigo Duterte laying out NFA anomalies under Jason Aquino's watch
MANILA, Philippines – In a confidential memorandum to President Rodrigo Duterte, Cabinet Secretary Leoncio Evasco Jr accused National Food Authority chief Jason Aquino of diverting NFA rice meant for typhoon-prone Eastern Visayas to select Bulacan rice traders.
The memorandum obtained by Rappler was supposed to have been given to Duterte by Evasco during a one-on-one meeting in Malacañang on Monday, April 16.
In the document, Evasco said Aquino, without approval of the NFA Council, sold 10.4 million kilograms of NFA rice meant for Region VIII to chosen Bulacan rice traders for P235 million.
The deal was disadvantageous to the government as it had purchased the rice for P261 million "for specific rice consumers – poor communities in Region VIII."
The scheme was one reason why there was a sudden decline in NFA's buffer stock in Eastern Visayas. The kilograms of rice sold to private traders is "equivalent to a buffer of 3-days-to-last," reads the memorandum.
With the Aquino-sanctioned pull-out, the region's buffer stock was reduced to less than a day's worth of stock.
The memo included the selling price bulletin issued by Aquino to prove this. It also attached a letter from an NFA official protesting Aquino's move.
"The official further urged the Administrator to distribute the rice reserves to provinces that need buffer stock replenishment and not sell it to private retailers. Nonetheless, the NFA Administrator proceeded with the sale," wrote Evasco.
The sale proceeded despite the special mandate given to NFA to ensure higher reserves for Eastern Visayas because it is in the typhoon belt and thus most vulnerable to food security threats.
Evasco slammed Aquino for acting as if diverting NFA rice stocks was solely his prerogative.
"The NFA Administrator arrogated unto himself the exclusive discretion of determining the allocation and recipients of NFA rice stocks without the slightest regard to the guidelines and procedures that safeguard the interest of the public," said the Cabinet Secretary.
Why to Bulacan rice traders?
Documents attached as annexes to the memorandum show a portion of the Eastern Visayas buffer stock was sold to 4 Bulacan rice traders: Mutya Rice Mill Bulacan, Mountain View MPC, Labne Producers Coop, and Balaong MPC.
The 4 traders bought a total of 45,906 bags of rice intended for Eastern Visayas.
Evasco pointed to one possible reason for the supposed preference for Bulacan traders – Aquino's wife comes from San Miguel, Bulacan.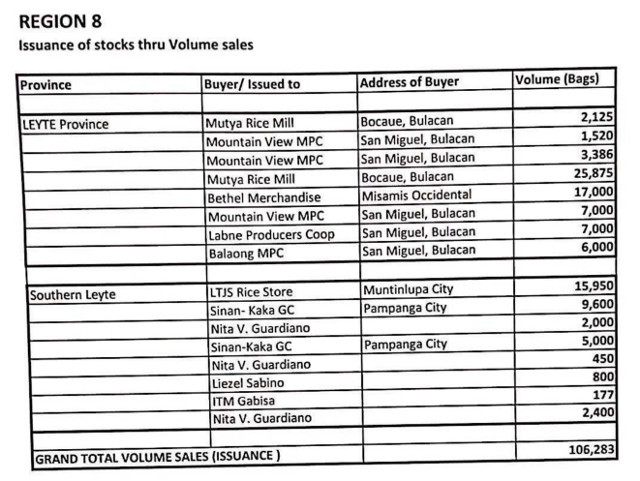 Some Bulacan cooperatives not qualified
Evasco also called attention to the "suspiciously high number of cooperatives from San Miguel, Bulacan" given quotas or allocations to import rice under the Minimum Access Volume (MAV).
Thirty-nine out of the 294 entities that applied for rice importation quotas are from San Miguel.
These cooperatives received a total of 181,502 metric tons of allocation, or 22.5% of the total 2017 MAV approved quota (728,479 metric tons).
Of these, 22 are not authorized to engage in rice importation, said Evasco, using as basis financial statements that prove "they are not financially fit to shoulder the cost of importation."
These 22 cooperatives received 11% (87,996 metric tons) of the total 2017 MAV quota.
Dubious orders
The NFA Council had also gotten wind of Aquino's order to pull out NFA representatives in the ports of entry of NFA rice.
The order, said Evasco, is "grossly contrary" to NFA Council guidelines requiring the presence of an NFA employee during the arrival of imported rice as a way to ensure transparency.
Letters from NFA regional officials, attached to the memo, prove Aquino gave the order.
Also attached was a letter from an NFA regional official saying that their office would be "carrying out the order under protest."
Aquino, however, had reasoned that the NFA's legal department had merely recommended that future terms of reference and guidelines should be revised to allow pull-out of NFA personnel in ports of entry.
Tug-of-war
Evasco's meeting with Duterte and his memorandum come after the President defended Aquino and expressed trust in him.
Duterte had also expressed an intention to "abolish" the NFA Council, a move seen to benefit Aquino. However, after being told by Executive Secretary Salvador Medialdea that this could not be done without Congress, Duterte said he would transfer the NFA to the Office of the President instead and would assign Agriculture Undersecretary Bernadette Romulo-Puyat in charge of rice importation.
Both decisions render the NFA Council obsolete in terms of decisions on rice importation.
Senators have slammed Aquino for supposedly causing panic and the increase of rice prices when he publicly declared a rice shortage.
Some lawmakers have even called on Aquino to resign and criticized Duterte's desire to abolish the NFA Council. Evasco himself, in March 2017, had asked Duterte to fire Aquino, to no avail. – Rappler.com